Love & Swans — Sustainability
OUR SYSTEM
Not sure what
size you are?
Follow this instructions and find your perfect fit.
1) Measure your BUST. Place the tape at the fullest part of your bust. If you don't have a tape, you can use thread, and then measure it with a ruler.
2) Measure your UNDERBAND (wrap a measuring tape directly under your breasts, parallel to the underband). If you measure closest to 70cm, you're a size 70. If you measure close to 75cm, you're a size 75. And so on...
All our items are made of stretch mesh, so it gives you +/- half size.
Use size chart below to find your Love & Swans size for all our briefs and bodysuits: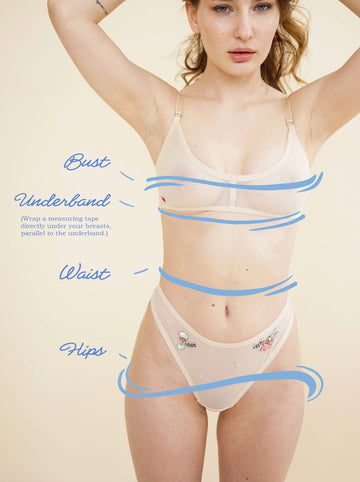 Love & Swans Bralettes:


| | | | | |
| --- | --- | --- | --- | --- |
| Size | BUST |   | UNDER BUST |   |
|   | cm | in | cm | in |
| 70AB | 73-83 | 28,5-32,5 | 68-73 | 27-29 |
| 70CD | 84-93 | 33-36,5 | 68-73 | 27-29 |
| 75AB | 78-88 | 30,5-34,5 | 74-78 | 29-31 |
| 75CD | 89-98 | 35-38,5 | 74-78 | 29-31 |
| 80AB | 84-93 | 33-36,5 | 79-83 | 31-32,5 |
| 80CD | 94-103 | 37-40,5 | 79-83 | 31-32,5 |
| 85AB | 89-98 | 35-38,5 | 84-88 | 33-34,5 |
| 85CD | 99-108 | 39-42,5 | 84-88 | 33-34,5 |
| 85EF | 109-118 | 43-46,5 | 84-88 | 33-34,5 |
| 90AB | 94-103 | 37-40,5 | 89-93 | 35-36,5 |
| 90CD | 104-113 | 41-44,5 | 89-93 | 35-36,5 |
| 90EF | 114-123 | 45-48,5 | 89-93 | 35-36,5 |
| 95AB | 99-108 | 39-42,5 | 94-98 | 37-38,5 |
| 95CD | 109-118 | 43-46,5 | 94-98 | 37-38,5 |
| 95EF | 119-128 | 47-50,5 | 94-98 | 37-38,5 |
Love & Swans Knickers: 


| | | |
| --- | --- | --- |
| Size | WAIST (inches) | HIPS (inches) |
| XS | 22-24,5 | 32,5-34,5 |
| S | 25-27 | 35-37 |
| M | 27,5-30 | 37,5-40 |
| L | 30,5-33 | 40,5-43 |
| XL | 33,5-36 | 43,5-45 |
| XXL | 36,5-39 | 45,5-48 |
| XXXL | 39,5-42 | 48,5-51 |